Otel Bayburt Konaklama
Merkez, Bayburt
- Bayburt Şehir Merkezi, Bayburt
- City center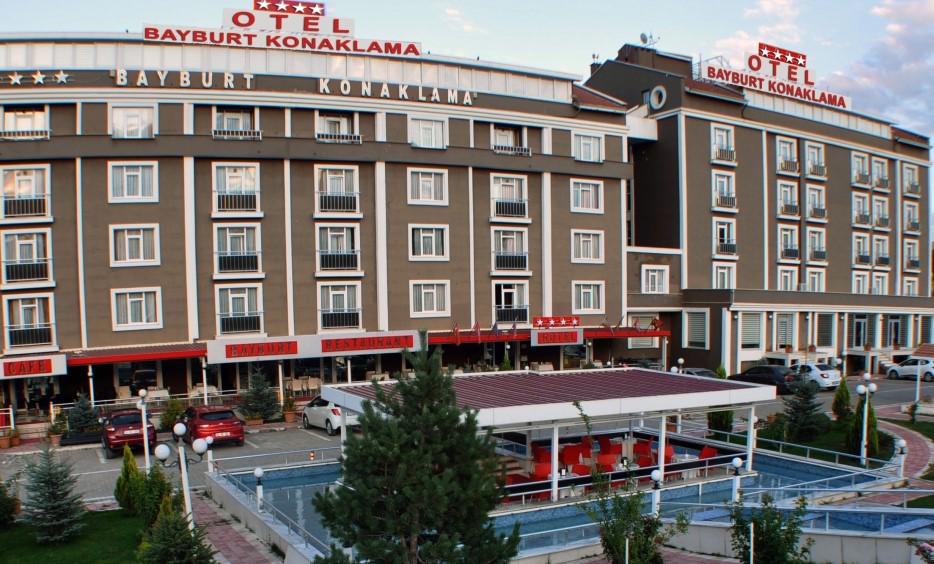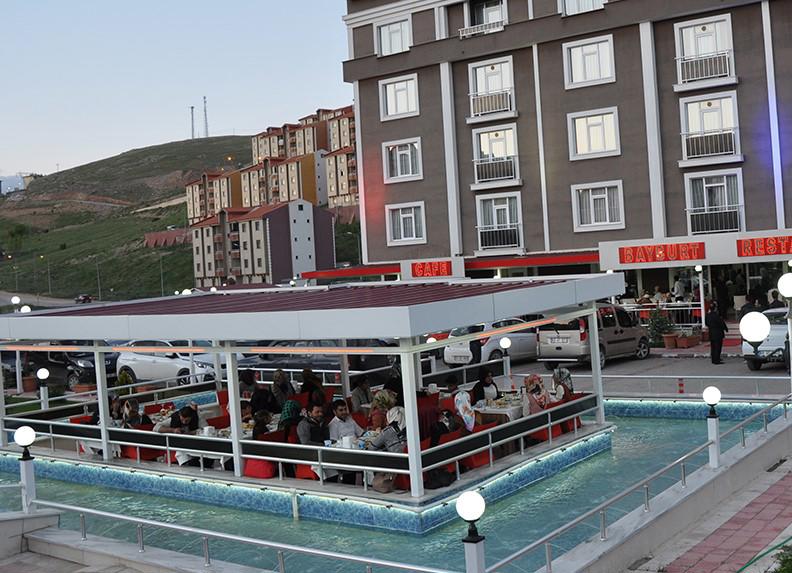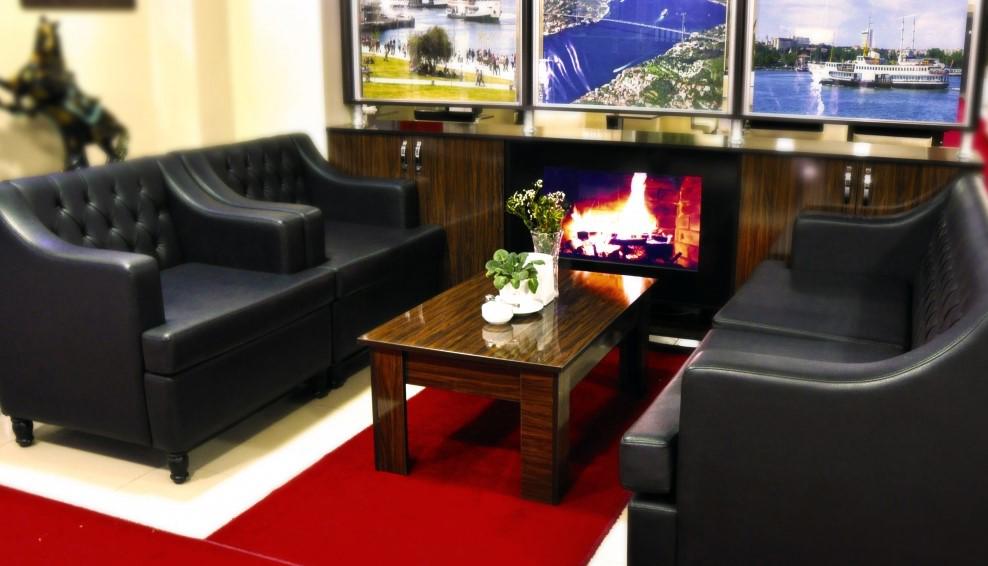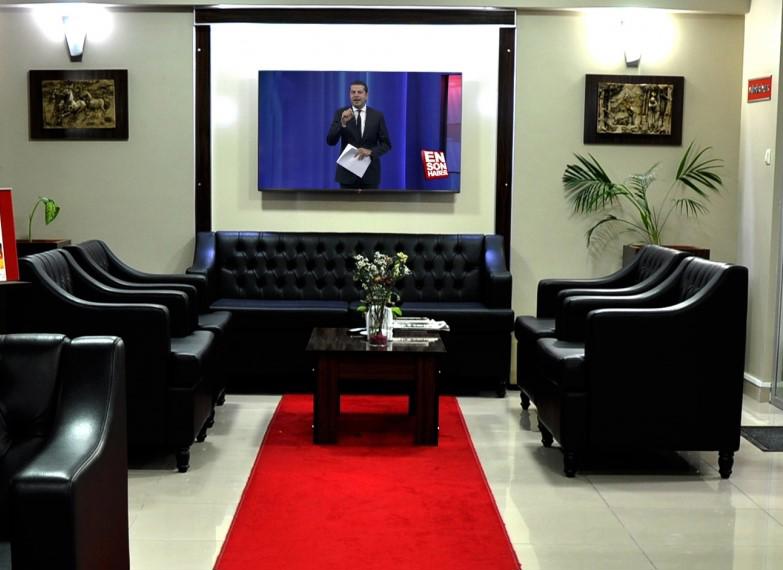 Wi-Fi
Car Park
Meeting Rooms
Spa
Transfer Service
Study Rooms
About
Şehrin merkezinde misafirlerini karşılayan Otel Bayburt Konaklama, geniş olanakları ve ayrıcalıklı hizmetleriyle unutulmaz bir tatil dönemi geçirme fırsatı veriyor. Görkemli binasında konaklama hizmeti veren tesis, merkezî konumu sebebiyle şehrin imkânlarını konuklarına ulaşılabilir kılıyor.
Otel Bayburt Konaklama, aile odalarını ve standart birimlerini misafirlerine açıyor. Uyumlu renklerle dizayn edilmiş odalarda evinizin rahatında tatil yapabilirsiniz. Birimlerde televizyon, çalışma masası ve klima gibi detayları görebilirsiniz.
Otel Bayburt Konaklama, kahvaltı hizmeti sunan bir tesis. İşletmenin açık ve kapalı restoranını kullanarak tüm yeme-içme ihtiyaçlarınızı kolayca karşılayabilirsiniz. Ayrıca tesis bünyesinde kafeterya da bulunuyor.
Konaklama mekânının SPA olanaklarından yararlanarak yılın yorgunluğunu üzerinizden kolayca atabilirsiniz. Sauna ve hamam yardımıyla vücudunuzu toksinlerden arındırarak taze bir ciltte tatilinize kaldığınız yerden devam edebilirsiniz. SPA imkânlarının yanında Otel Bayburt Konaklama, organizasyon olanağını da konukların ilgisine sunuyor. Tesis toplantı, konferans ve düğün gibi günleri titizlikle planlıyor.
İşletmenin 24 saat hizmet veren resepsiyonunu günün dilediğiniz saati ziyaret ederek ilgili personellere taleplerinizi kolayca aktarabilirsiniz. Ayrıca emanet kasa ve bagaj depolama gibi hizmetlerden de yararlanabilmek mümkün. Otel Bayburt Konaklama otopark alanını konuklarına açarak park yeri bulma problemini engelliyor.
Otel, merkezî konumu sebebiyle şehirdeki gezilecek mekânlara oldukça yakın. Tatilinizi kültür dolu bir geziye çevirmek isterseniz şu noktaları ziyaret edebilirsiniz: Bayburt Kalesi, Korgan Köprüsü, Yeraltı Şehri, Sırakayalar Şelalesi, Baksı Müzesi. İşletmeye en yakın havaalanı Erzurum'da bulunuyor. 117 km uzaklığa sahip Erzurum Havalimanı'na gitmek isterseniz işletmenin servis hizmetinden yararlanabilirsiniz.
Konaklama mekânına evcil hayvan kabul edilmiyor. Otele en erken 12.00'de giriş yapabilirsiniz. Çıkış işlemlerini yine 12.00'ye kadar tamamlamanız gerekiyor.
Standart Oda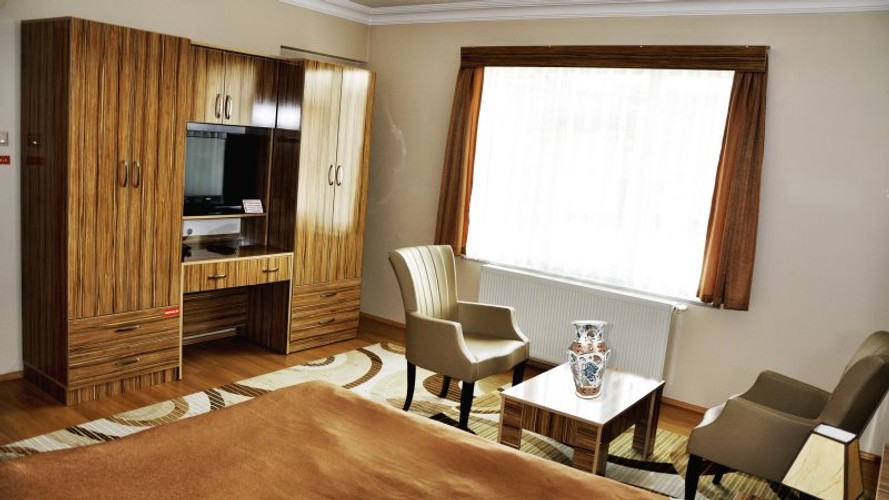 Deluxe Tek Büyük Yataklı Oda, 1 Büyük (Queen) Boy Yatak
Family Oda, 1 Büyük (Queen) Boy Yatak Ve 2 Tek Kişilik Yatak
Standard Room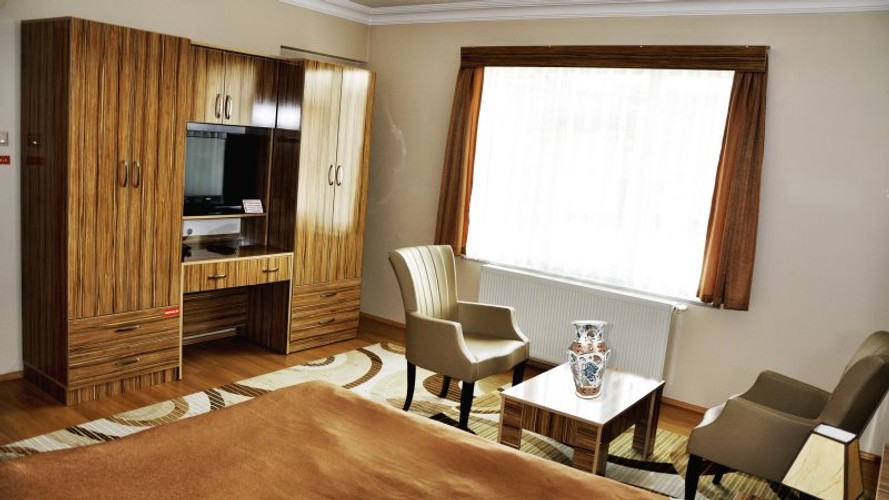 Deluxe Tek Büyük Yataklı Oda
Family Oda
Deluxe Double Room
Family Room
Double Room
Triple Room
Single Room
Deluxe Double Room NON-REFUNDABLE
Family Room NON-REFUNDABLE
Double Room NON-REFUNDABLE
Triple Room NON-REFUNDABLE
Single Room NON-REFUNDABLE
Frequently Asked Questions
Otel Bayburt Konaklama what are the check-in and check-out times?
Check-in time is: 14:00, Check-out time is: 12.00
Otel Bayburt Konaklama how far is the nearest bus station?
Otel Bayburt Konaklama The nearest bus station to the Hotel is Bayburt Otogarı, and the distance to this bus station from the hotel is 0.75 km.
Otel Bayburt Konaklama how far is it from the city center?
Otel Bayburt Konaklama The distance to the city center of the hotel is 1 km.