Joyana Otel
Cumhuriyet Mahallesi, Necip Fazil Kisakurek Sokak 10, 18100 Cankiri
- Çankırı Şehir Merkezi, Çankırı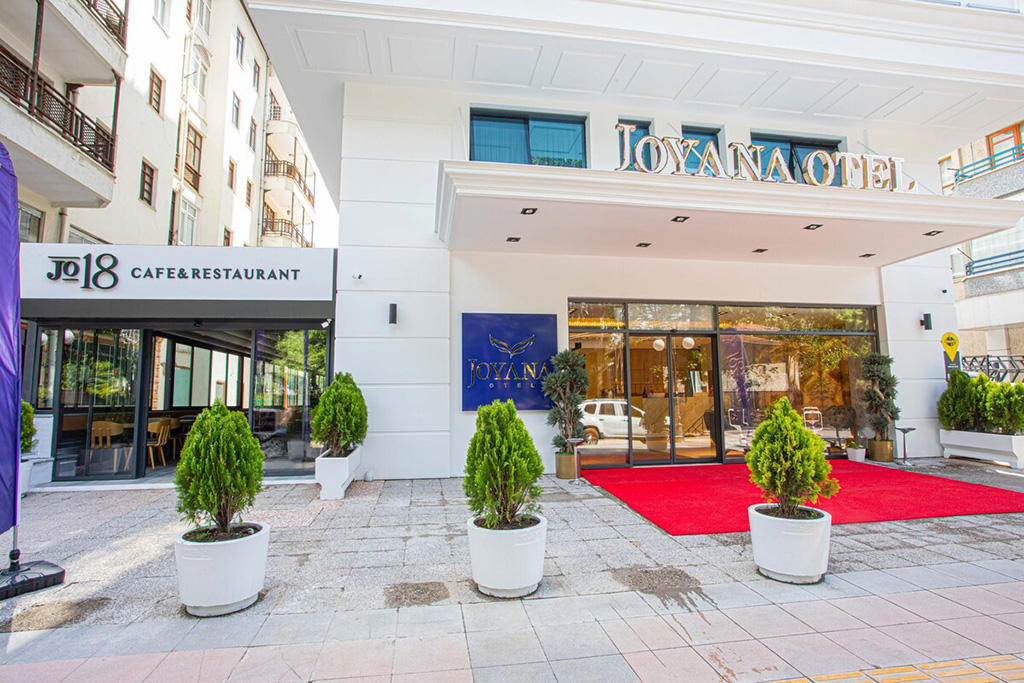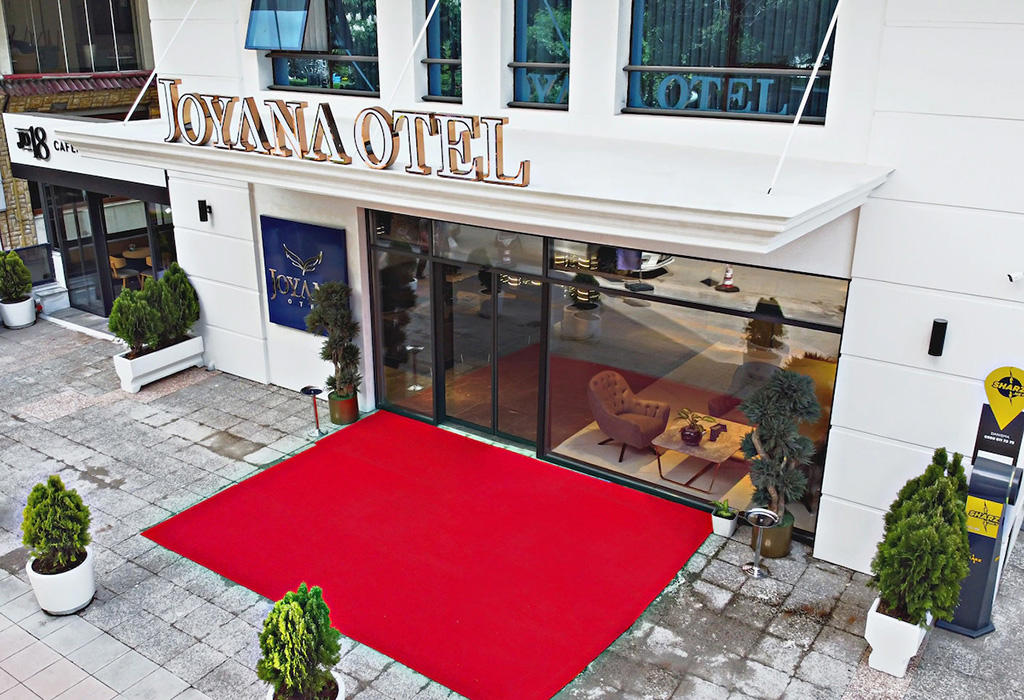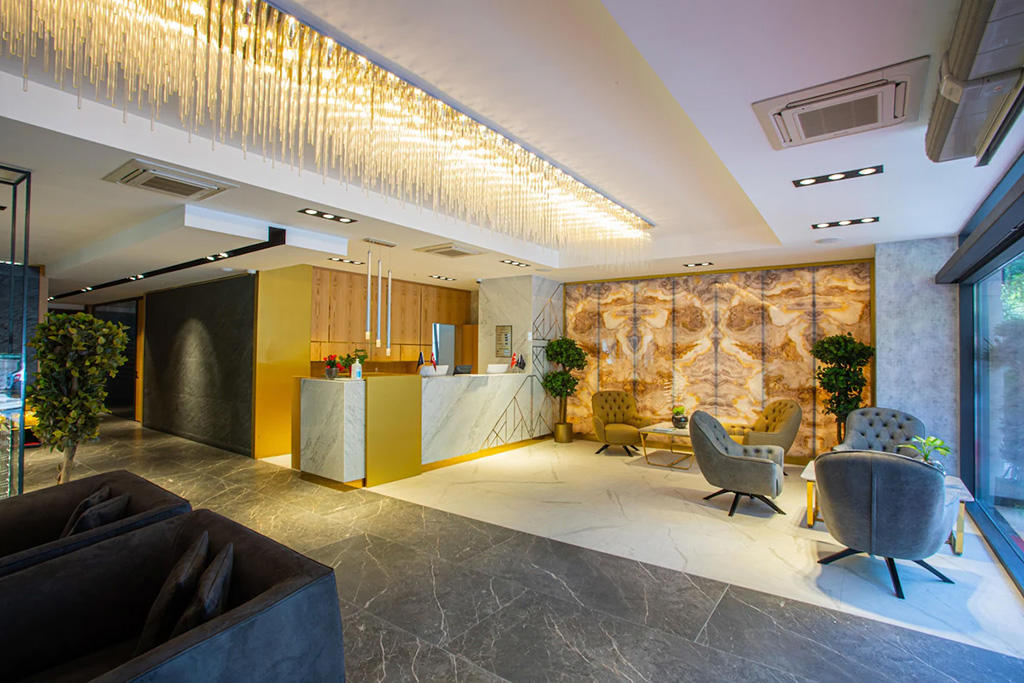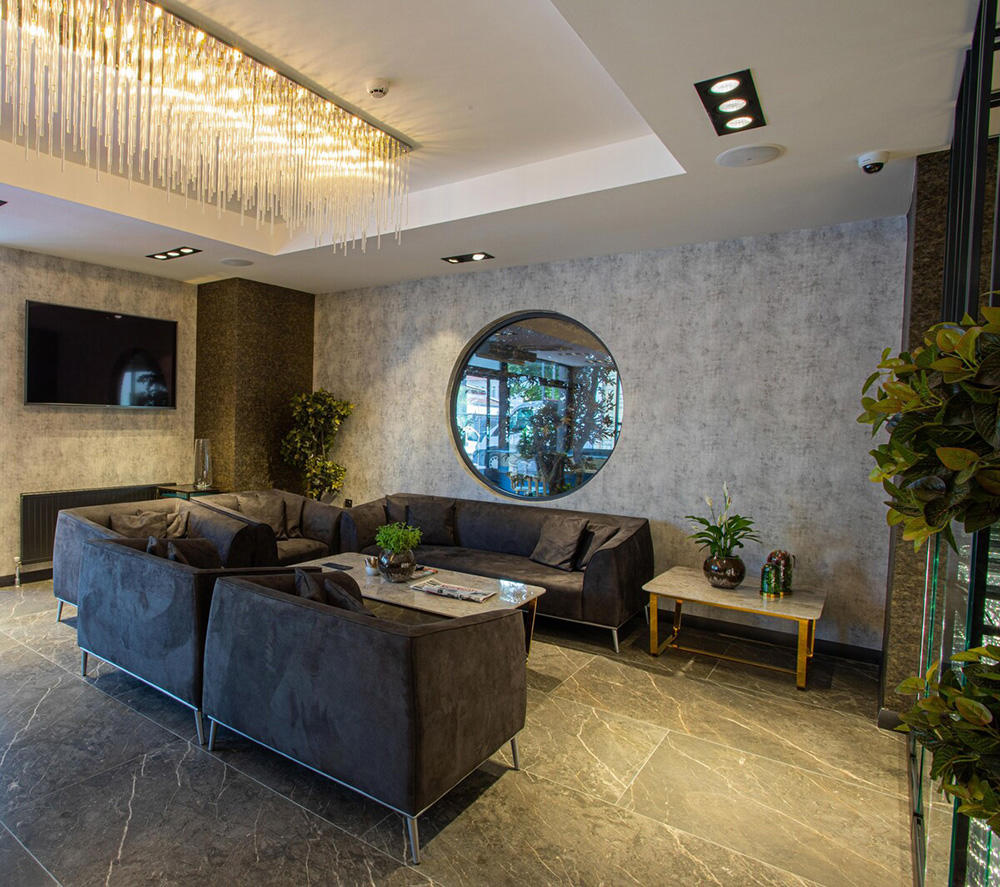 Wi-Fi
Car Park
Meeting Rooms
Study Rooms
Reception
Pets Allowed
About
Joyana Otel, Çankırı merkezinde misafirlerini ağırlıyor. Otel, modern olanakları ve zengin yemek menüsüne sahip restoranı ile dikkat çekiyor.
Konuklarına tamamı klimalı olan Prestij Oda, Prestij Deluxe Oda, Aile Odası, Standart Fransız Yataklı Oda ve Standart İki Yataklı Oda seçenekleri sunuyor. Odalarda misafirler için duşakabinli banyo, telefon, elektronik kasa, ücretsiz kablosuz internet, uydu yayınlı LED TV, çay, kahve ve su içeren karşılama seti, çay-kahve makinesi ve mini bar bulunuyor.
Joyana Otel'in konuklarına her sabah saat 07:00 ve 10:00 arasında özel kahvaltılıklardan oluşan ücretsiz açık büfe servisi yapılıyor. Otelin teras katında bütün şehrin ve Çankırı Kalesi'nin kesintisiz görülebildiği bir alakart restoran bulunuyor. Bu restoranın menüsünde Türk ve dünya mutfağının seçkin örneklerinin yanı sıra Uzak Doğu mutfağından seçmeler yer alıyor. Otelin giriş katında zengin içecek çeşitlerinin yanında tatlı ve atıştırmalık menü seçenekleri sunan bir kafe bulunuyor. Otelde konuklara 24 saat oda servisi hizmeti de sunuluyor.
Otelin resepsiyonunda konsiyerj ve valiz emaneti hizmetleri ile lobi kısmında ücretsiz günlük gazete olanağı öne çıkıyor. Konukların çamaşır yıkama ve kuru temizleme hizmeti alma imkanı bulunuyor. Joyana Otel'in ücretsiz hizmetleri arasında otopark da yer alıyor. Oteldeki teknik donanımlar sayesinde tüm misafirler kutlama, düğün, toplantı ve seminer gibi organizasyonların düzenlenebileceği özel salonlardan yararlanabiliyor. Aynı zamanda otelde elektrikli araç şarj istasyonu yer alıyor.
Joyana Otel, bölgeye en yakın havalimanı olan Kastamonu Uzunyazı Havalimanı'na 98 km, Çankırı Müzesi'ne 5 km, Alpsarı Göleti'ne 10 km, Şeyh Osman Cami'ne 8 km uzaklıkta konumlanıyor.
Evcil hayvanlarla birlikte konaklamaya izin verilmeyen otele giriş işlemleri en erken saat 14.00'te, çıkış işlemleri ise en geç saat 11.00'de yapılıyor.
Standard French Bed Room, 1 Büyük (Queen) Boy Yatak
Standard İki Ayrı Yataklı Oda, 2 Tek Kişilik Yatak
Family Oda, 1 Çift Kişilik Yatak Ve 1 Tek Kişilik Yatak
Prestij Oda, 1 Çift Kişilik Yatak
Prestij Delux Oda, 1 Çift Kişilik Yatak
, Bed Not Specified
Standard French Bed Room
Standard Iki Ayrı Yataklı Oda
Prestij Oda
Prestij Delux Oda
Family Oda
Frequently Asked Questions
Joyana Otel what are the check-in and check-out times?
Check-in time is: 14:00, Check-out time is: 12.00
Joyana Otel how far is the nearest bus station?
Joyana Otel The nearest bus station to the Hotel is Yamuçlar Otobüs Kalkış-Varış Noktası, and the distance to this bus station from the hotel is 11.65 km.
Joyana Otel how far is it from the city center?
Joyana Otel The distance to the city center of the hotel is 11.3 km.