Armas Termal
Bağbaşı Mahallesi, Şehit Kerem Aydın Caddesi 49/5-a, 40100 Kirsehir
- Kırşehir Şehir Merkezi, Kırşehir
- From the city center 3.7 km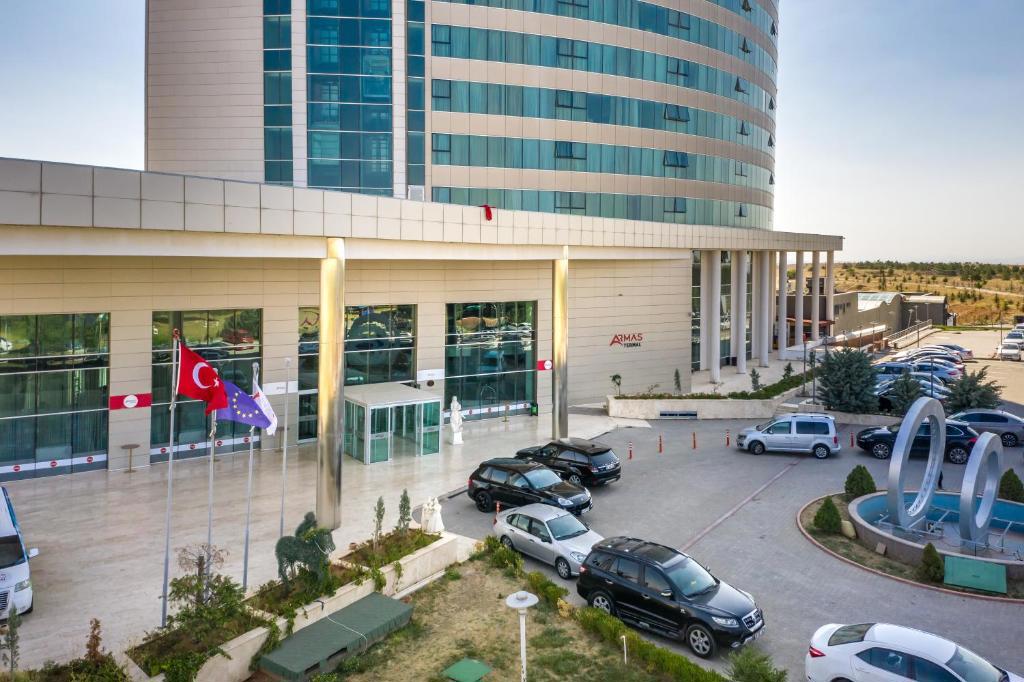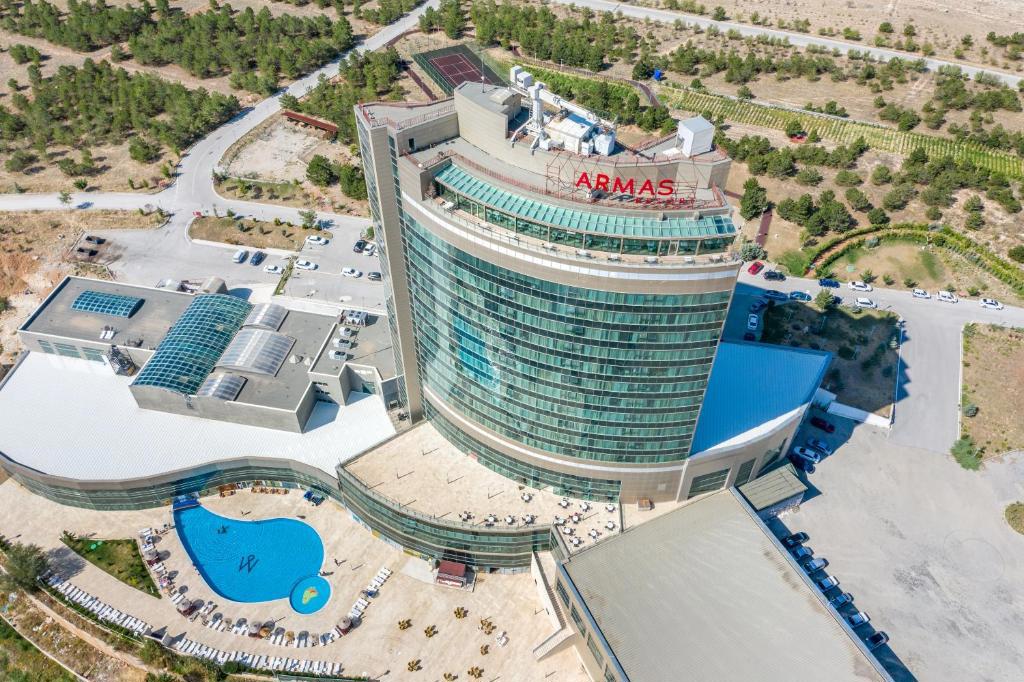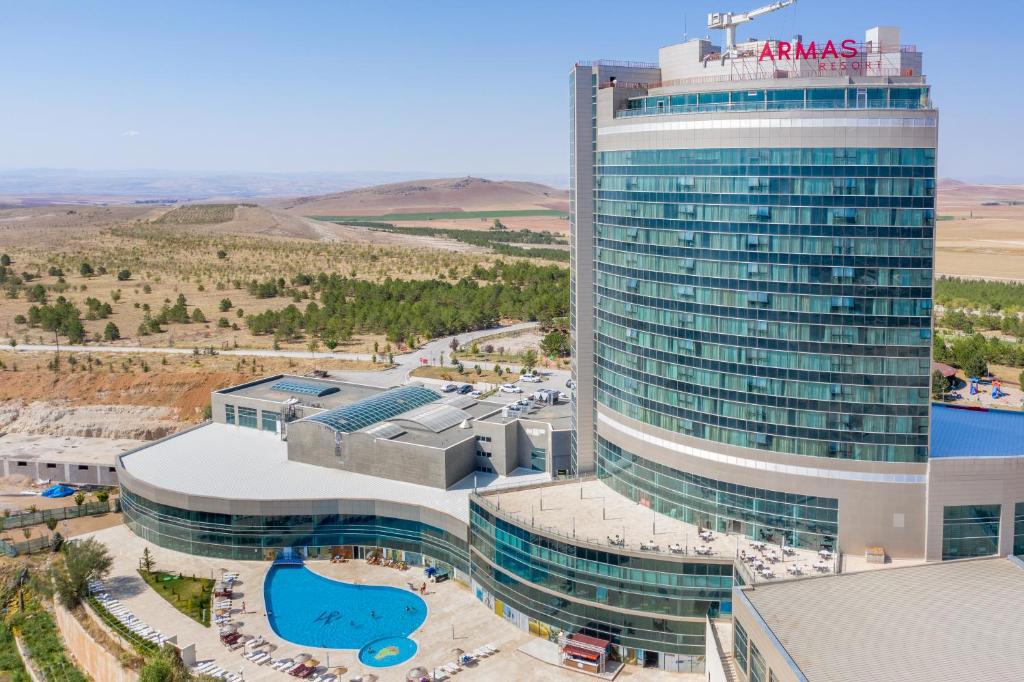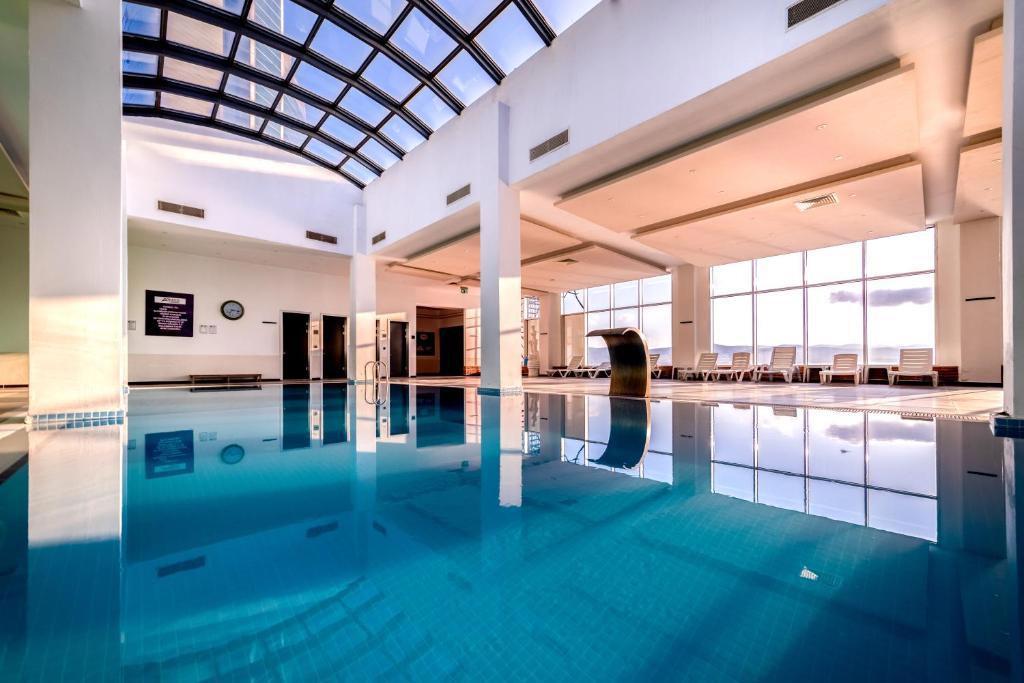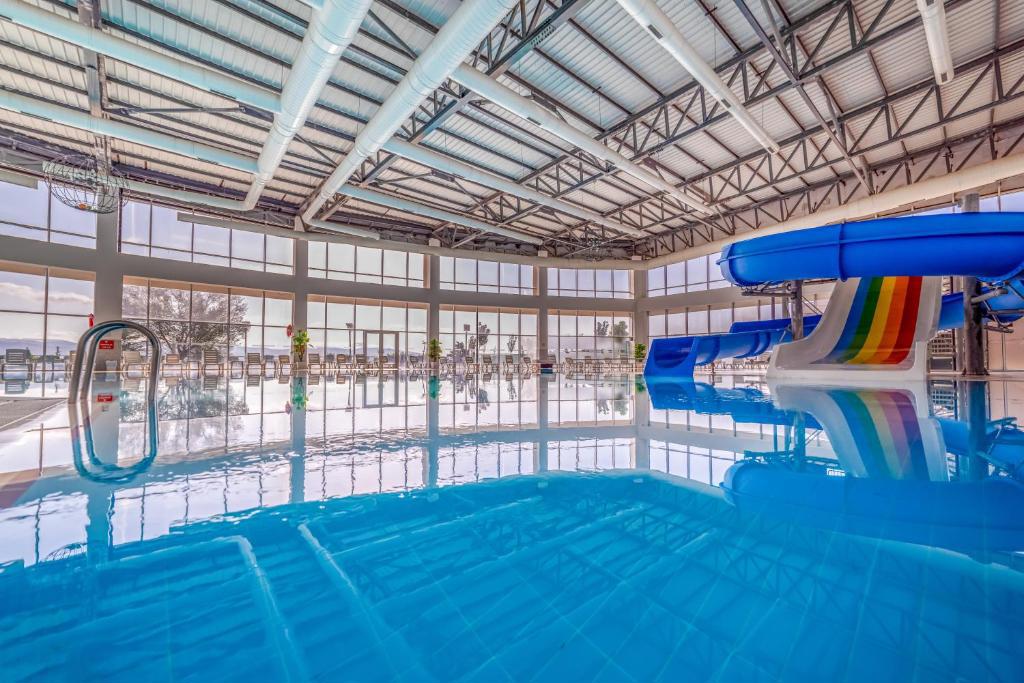 Wi-Fi
Restaurant
Conference Room
Bar
About
Armas Termal Resort Otel, şehir hayatının ve hızlı yaşamın getirdiği stresten uzaklaşmaya yardımcı oluyor. Otelin termal hizmetleri, kendini şifalı suların huzuruna bırakmak isteyen kullanıcıların ihtiyacına yanıt veriyor. Sağlığı, konforu ve üst seviye hizmeti bir arada sunan tesis, muhafazakar konaklama tesisi isteyenlerin aradığı konsepte sahip.
Armas Termal Resort özelinde konaklama yapmak üzere farklı oda tipleri arasından seçim yapabilirsiniz. Otelde standart, suit, deluxe, family ve king suit gibi oda tipleri bulunuyor. Tesiste ayrıca balayı konseptine uygun odalar da mevcut. Odalarda genel olarak LCD televizyon, konforlu yatak, minibar, saç kurutma makinesi, temiz havlu ve duş gibi olanaklar var.
Armas Termal Resort restoran bölümü, otele gelen misafirlerin en sevdiği alanlardan biri. Geleneksel Kırşehir ve Türk mutfağının harmanını sunan otel restoranı, her misafirin damak tadına uygun bir lezzete sahip. Yarım pansiyon konseptinde hizmet veren tesis, İslamî şartlara uygun bir yemek kapsamı sunuyor.
Armas Termal Resort spa bölümü, sağlık ve lüksün ön planda olduğu tesis için popüler bir bölüm. Birçok misafir, tesisi spa merkezi ve termal hizmetlerine yönelik tercih ediyor. Aile konseptine uygun otelde Türk Hamamı, masaj salonu, buhar odası ve tuz odası gibi imkânlar da mevcut. Spa bölümünde dinlendikten sonra keyfinize keyif katmak üzere otele ait fitness salonuna uğrayabilirsiniz. Üstelik Armas Termal Resort, havuz hizmetini de konuklarına sunuyor.
Kuru temizleme, çamaşırhane, jakuzi, emanet kasası, telefon ve faks hizmeti gibi detaylar içeren otel, ayrıcalıklı bir tatil için gereken her imkânı sunuyor. Otel şehir merkezi, balayı ve aile oteli gibi niteliklere sahip.
Armas Termal Resort, Kırşehir merkezde konumlanıyor. Ayrıca tesis, Nevşehir Kapadokya Havalimanı'na 86 km uzaklıkta yer alıyor. Otele ait transfer özelliğini kullanarak konforu yakalayabilirsiniz. Tesis, şehrin gezi duraklarına da yakın. Bunlardan biri olan Kırşehir Müzesi, otele 2 km uzaklıkta bulunuyor.
Tesis, evcil hayvan konseptine uygun değil. Otele giriş saati 14.00, çıkış saati ise 11.00 olarak belirtiliyor.
Aile Suit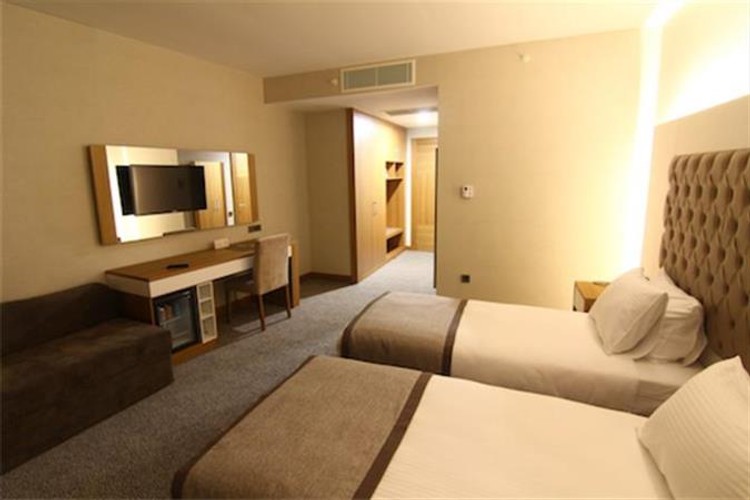 Suit Oda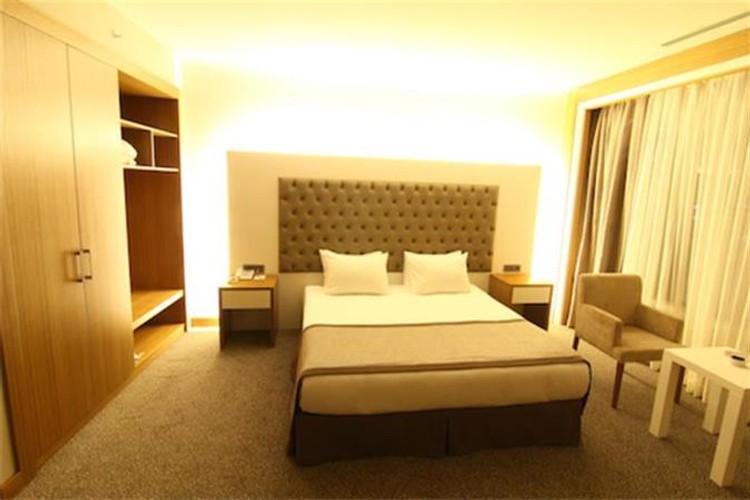 Deluxe Suit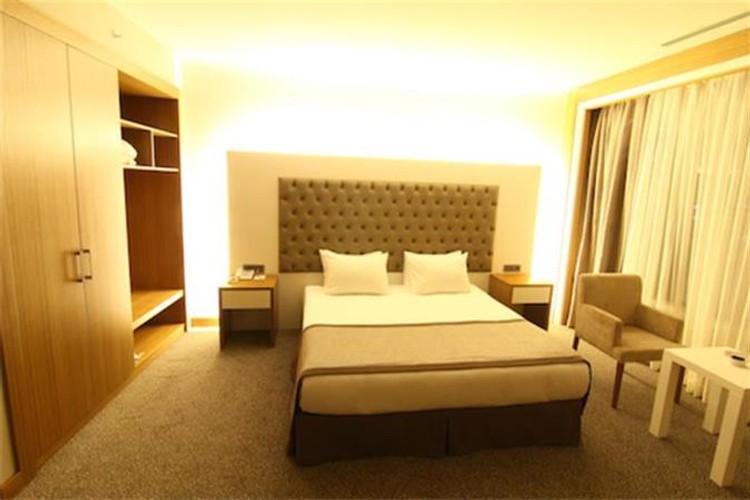 Standart Oda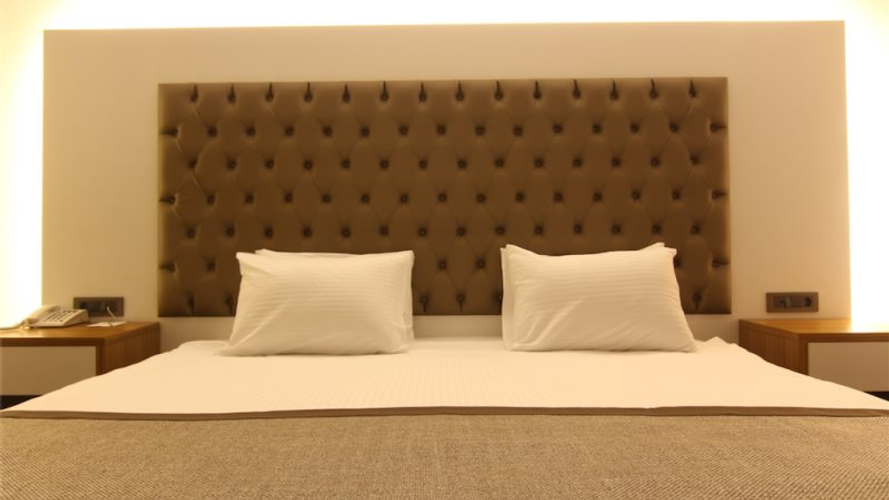 SUITE KING BED WITH JACUZZI
DOUBLE SINGLE USE STANDARD
Family Suite
Deluxe Suite Oda
FAMILY ROOM DELUXE
Çift Kişilik Süit (Çift Kişilik Yatak) (Büyük Boy Yatak, Jakuzi)
Double Single Use Standard
Standard Double
Standard Single Room
Standard Double - NON REFUNDUBLE
Frequently Asked Questions
Armas Termal what are the check-in and check-out times?
Check-in time is: 14:00, Check-out time is: 12.00
Armas Termal how far is the nearest bus station?
Armas Termal The nearest bus station to the Hotel is Kırşehir Otogarı, and the distance to this bus station from the hotel is 4.75 km.
Armas Termal how far is it from the city center?
Armas Termal The distance to the city center of the hotel is 3.7 km.