Carmine Hotel
Fabrikalar Mah., Atatürk Bulvarı. Gökhan Algül İşmerkezi Migros Üstü 6, 71100 Kırıkkale
- Kırıkkale Merkez, Kırıkkale
- From the city center 1.8 km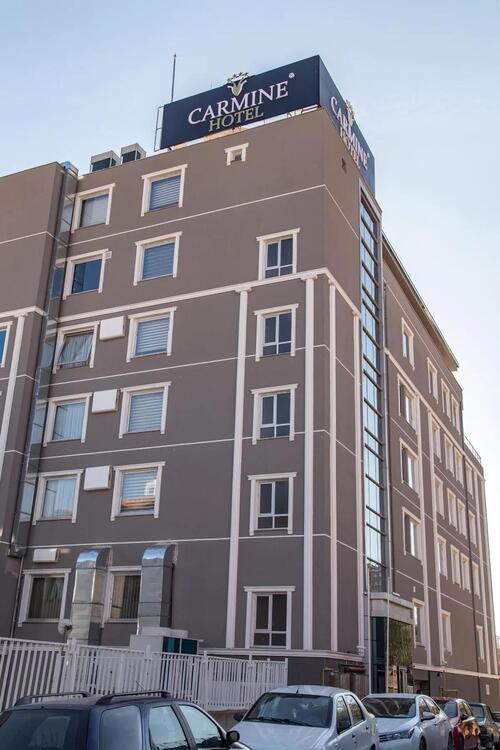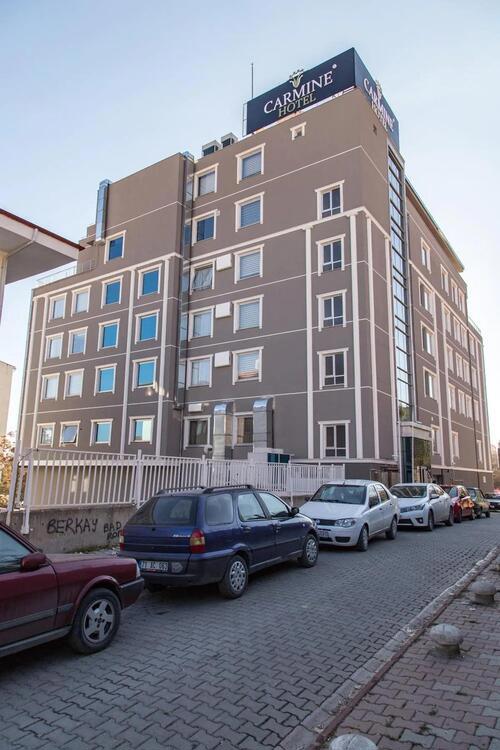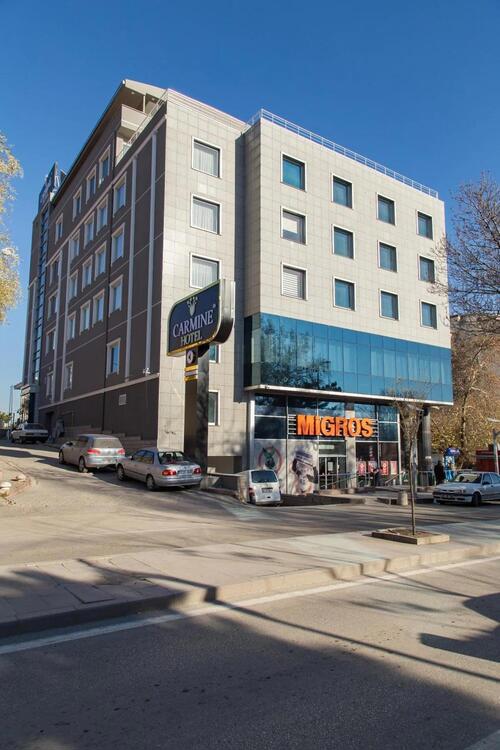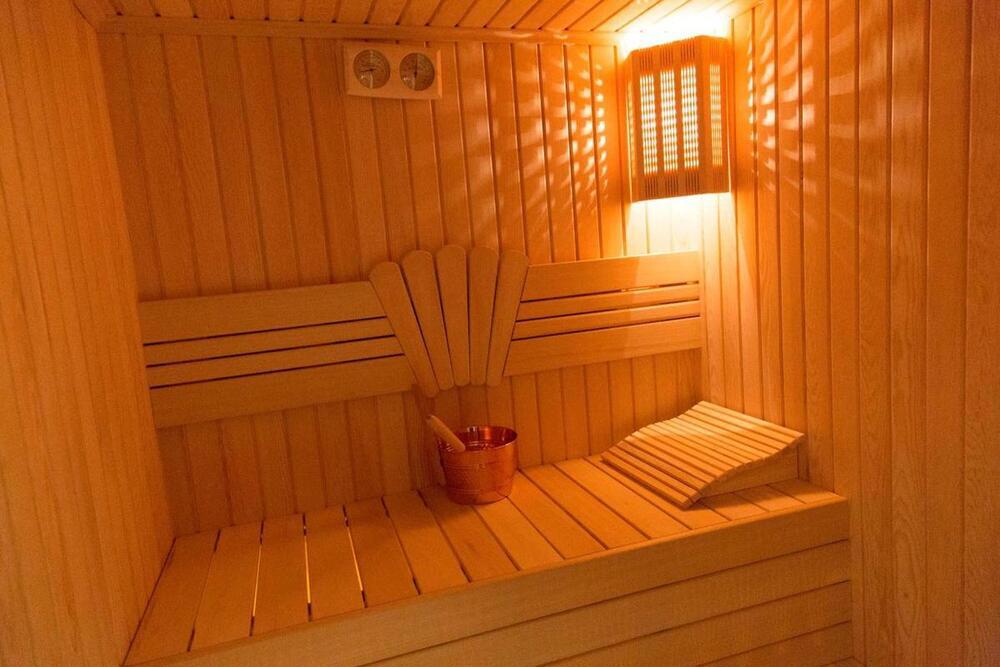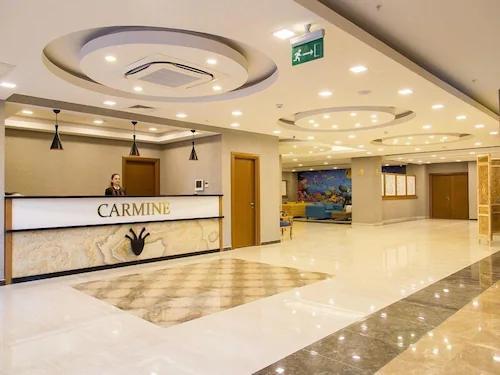 Meeting Rooms
Transfer Service
Study Rooms
Reception
Valet
Resting Room
About
Kırıkkale Carmine Hotel merkezî konumuyla Atatürk Bulvarı üzerinde yer alıyor. Tesis, hem çevreyi keşfetmek isteyenlere hem de bölgeye iş amacıyla gelenlere önemli fırsatlar sunuyor. Ulaşım açısından da ideal konumda bulunan otel, misafirlerine sağladığı seçkin özelliklerle onlara unutulmayacak anılar bırakıyor.
Tesiste ziyaretçilerin ihtiyaçlarına yönelik beş oda tipi mevcut. Bir, iki, üç, dört kişilik standart odalarının yanı sıra otelde suit konaklama imkânı da bulunuyor. Geniş ve modern tasarıma sahip odalardaki özel duşlu banyo, kablosuz internet, elbise dolabı, su ısıtıcısı, düz ekran TV, kasa ve saç kurutma makinesi gibi özelliklerden yararlanabilir, evinizdeki kadar konforlu hissedebilirsiniz.
Otel, konuklarına her damak zevkine hitap edebilecek yeme içme imkânları sunuyor. Sabahın erken saatlerinde başlayan açık büfe ve kontinental seçenekli kahvaltı servisi Carmine Hotel restoranı tarafından özenle hazırlanıyor. Böylelikle fazla çeşide sahip kahvaltıyla güne taze bir başlangıç yapabilirsiniz. Usta aşçılar tarafından hazırlanan Türk mutfağının seçkin lezzetlerinin tadına tesisin restoranında varabilmeniz mümkün.
Carmine Hotel toplantı salonu imkânı sayesinde çeşitli organizasyonlar için uygun bir atmosferde. İş görüşmeleri, konferans ve sunumlarınızı gerçekleştirebilmeniz için yeterli donanıma sahip tesis, misafirlerinin seyahatlerini verimli geçirmelerini sağlıyor. 500 kişi kapasiteli düğün salonu da bulunan otel, kaliteli ses sistemi ve tecrübeli ekibi sayesinde en mutlu günlerinize ev sahipliği yapıyor.
Günün her saati açık ilgili ve güler yüzlü resepsiyonuyla tesis, konukların her türden ihtiyacını karşılamak üzere hazır bekliyor. Carmine Hotel ücretsiz otopark hizmeti sayesinde misafirlerinin tesise ulaşımını kolaylaştırıyor. Günlük temizlik hizmetinin yanı sıra ek ücret karşılığında tesis kuru temizleme ve çamaşır servisi de veriyor.
Ankara Esenboğa Havalimanı otelden 71 km uzaklıkta. Şehrin tren istasyonuna 3, Nur Cami ve Yıldız Hamamı'na ise tesisten 8 dakika yürüyerek ulaşmanız mümkün.
Otele giriş saati 14.00, tesisten çıkış saati ise 12.00 ve öncesi. Otel, sahip olduğu koşullar gereği evcil hayvan kabul edemiyor.
Standard Room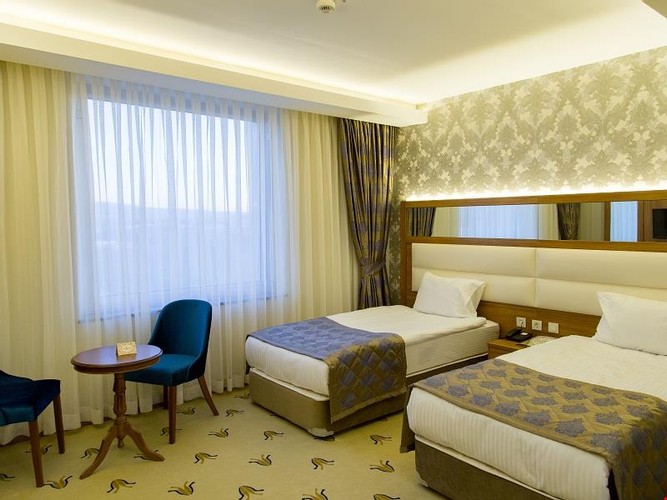 Standart Oda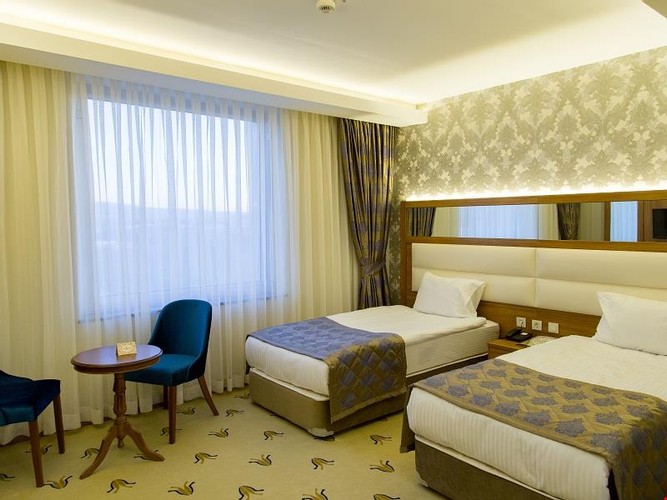 Suit Oda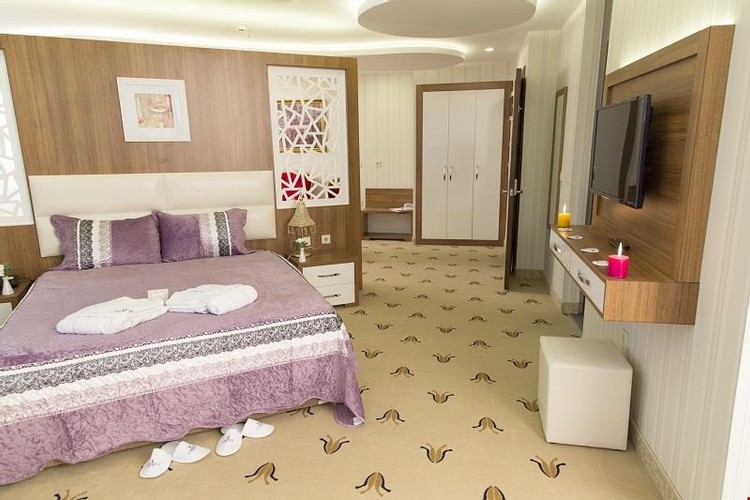 Standart Tek Kişilik Oda
Standart Çift Kişilik Oda (Çift Kişilik Yatak)
STANDARD SINGLE ROOM
STANDARD DOUBLE ROOM
Frequently Asked Questions
Carmine Hotel what are the check-in and check-out times?
Check-in time is: 14:00, Check-out time is: 12.00
Carmine Hotel how far is the nearest bus station?
Carmine Hotel The nearest bus station to the Hotel is Kırıkkale Çevreyolu Otobüs Kalkış-Varış Noktası, and the distance to this bus station from the hotel is 1.82 km.
Carmine Hotel how far is it from the city center?
Carmine Hotel The distance to the city center of the hotel is 1.8 km.